​
Spoke & Loop Easy - 2 Days
Tickets for this Event are Sold Out
Spoke & Loop Easy

With Sue Spargo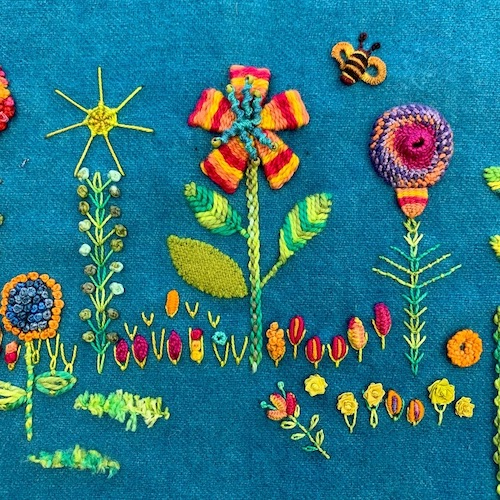 Join our 2 Day Studio Class!
Join Sue for 2 full days of stitching focused on the Creative Stitching tools, the Spoke Easy and the Loop Easy. the possibilities for these tools are endless! Create unique flowers, leaves, and plants to design a fantasy garden all of your own. Get creative and experiment with a variety of specialty threads, exploring stitches and stitch combinations that will add incredible depth and texture to your work. Leave this workshop with a beautiful cloth to turn in to a needle roll or small wall hanging!
Class Includes:
2 Days of instruction from Sue
Breakfast, Lunch and Dessert including coffee & tea
In Class You Will Learn:
Spoke Easy & Loop Easy tips, tricks and techniques
Needle sizing and types, as well as their applications
Thread weights and their uses
Embroidery stitches as featured in Creative Stitching
And More!
Supply List
Wool Background
Solid color of your choice 16" x 6"
Notions
Embellishment Threads
Other threads of your choice
Book
Cancellation Policy
Cancellation Policy for Classes and Events
Cancellation fees reflect the cost of registration, staff, instructor contracts, material acquisitions, and other services. This policy applies to all registrants, regardless of the reason for canceling. We encourage you to take our cancellation policies into consideration before registering for classes.
If you need to cancel your registration, you have the following options:
Transfer:
Registrants who cancel their enrollment in a workshop held in our Ohio studio may make a one-time transfer to any other workshop held in our studio.
Transfers may be made either in the current workshop season, or any workshop in the following year. Transfers must be made more than 30 days prior to the workshop.
Refund:
If you prefer not to transfer your workshop registration, the following fees apply:
More than 60 days prior to the workshop, refund of your deposit minus a 20% cancellation fee.
Less than 60 days prior to the workshop, no refunds will be issued.
Redirect:
Registrants are able to send someone in their place into the workshop for no additional fee. In this case, no refunds will be issued, payment arrangements are the responsibility of the original registrant if needed
Other Helpful Information
Class is held in our Ohio Studio Friday and Saturday October 20th thru 21st from 9am - 4pm.
Supplies are available for purchase in-store during class if not purchased ahead of time.
For suggestions for hotel accommodations and other questions, email Julia at julia@suespargo.com
Sold Out? Join the Waitlist!