​
Running Wild Table Runner - 1 Day
Running Wild Table Runner/Place-mat

With Sue Spargo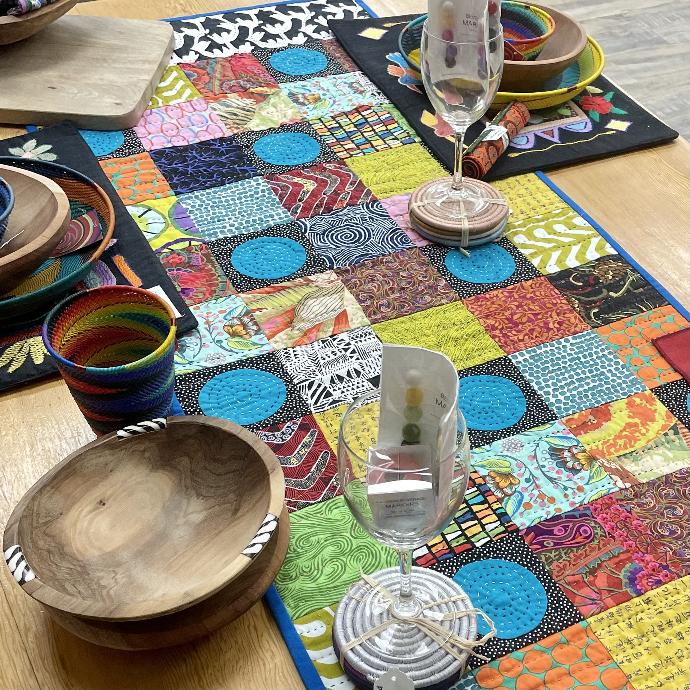 Sample courtesy of Tonye B. Phillips
Join Our 1 Day Studio Class!
Let your creativity Run Wild! Join Sue in this 1-Day Studio Class working with Tonye B. Phillips' Running Wild Table Runner pattern. Create your own pieced table runner or place-mat(s) with an assortment of African fabrics and Shweshwe or something from your own stash! Embellish your work with contrasting running stitches and set your table with an incredibly unique piece!

Class Includes:
1 day of instruction from Sue
Afternoon snack, and refreshments (bring a bagged lunch!)

In Class You Will Learn:
Running Wild Table Runner by Tonye B. Phillips construction
Perfect Circles
Big stitch quilting
Supply List
Fabrics
A wide variety of fabric in bright colors, geometrics, stripes, florals, dots, etc.
1/4 Yard polka dot or other fabric for each end
Backing cut to 20.5" x 62.5"
Cotton batting (thin) or flannel cut to 20.5" x 62.5" for Runner
Misc
Sewing machine + machine sewing thread (OR RENT ONE OF OURS!*)
*Sewing machine rental - $10 per day | Please reserve ahead of time | Only 2 available
Cancellation Policy
Cancellation Policy for Classes and Events
Cancellation fees reflect the cost of registration, staff, instructor contracts, material acquisitions, and other services. This policy applies to all registrants, regardless of the reason for canceling. We encourage you to take our cancellation policies into consideration before registering for classes.
If you need to cancel your registration, you have the following options:
Transfer:
Registrants who cancel their enrollment in a workshop held in our Ohio studio may make a one-time transfer to any other workshop held in our studio.
Transfers may be made either in the current workshop season, or any workshop in the following year. Transfers must be made more than 30 days prior to the workshop.
Refund:
If you prefer not to transfer your workshop registration, the following fees apply:
More than 60 days prior to the workshop, refund of your deposit minus a 20% cancellation fee.
Less than 60 days prior to the workshop, no refunds will be issued.
Redirect:
Registrants are able to send someone in their place into the workshop for no additional fee. In this case, no refunds will be issued, payment arrangements are the responsibility of the original registrant if needed
Other Helpful Information
Class is held in our Ohio Studio Friday, April 14th from 9am - 4pm.
Supplies are available for purchase in-store during class if not purchased ahead of time. We highly encourage purchases for supplies to be made ahead of time, as to not take away from class time.

For suggestions for hotel accommodations and other questions, email Julia at julia@suespargo.com
Sold Out? Join the Waitlist!