​
kzstevens Quilted Zipper Pouch
Quilted Zipper Pouch

with Karen of kzstevens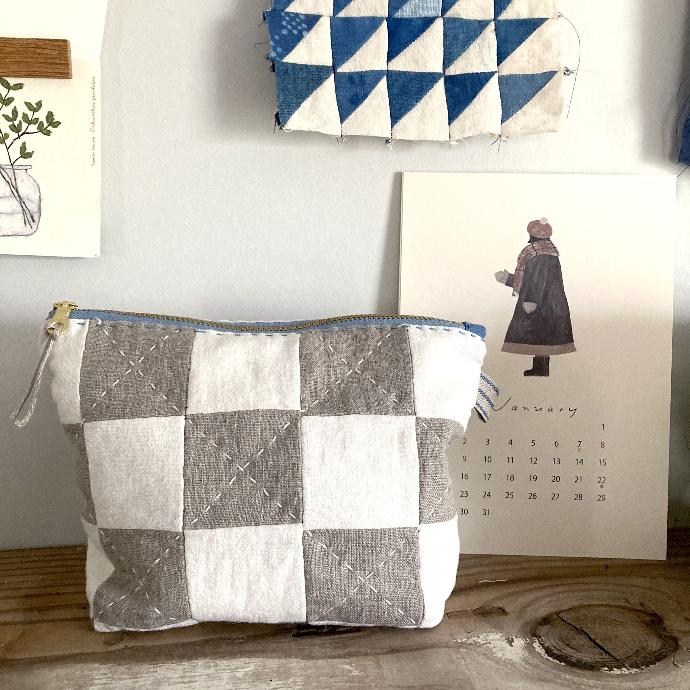 Learn from kzstevens herself!
"Take your hand sewing skills to the next level with this fully lined quilted zippered pouch. Learn a shortcut piecing technique to create two different pieced layouts for the exterior, a stripe on one side and a checkerboard on the other. Hand quilt using your preferred stitch pattern. Learn how to hand sew in a zipper (my favorite!) and then use a sewing machine to put it all together with boxed corners."
instructor Karen Stevens
kzstevens
For the last 25 years, Karen has been a freelance CAD instructor, training textile and fashion designers to create knits, prints and wovens for the garment industry. But these days you're more likely to find her in her creatively cluttered studio than on her computer, adding one more patch to a favorite pair of jeans, or naturally dyeing a pile of vintage linens, hand deep in an indigo vat. Karen shares her love of visible mending, natural fibers, hand dyed fabrics, educating others on the joys of slow stitching and using mending as an art form.
Karen has a Fine Arts degree from Skidmore College, and an Associates Degree from FIT in Textile Surface Design. She has recently relocated back north from Wilmington NC to Vermont,, and is looking forward to a New England spring.
"You repair the thing until you make it completely."    - Louise Bourgeois
---
Quilted Zipper Pouch
A combination machine and hand sewing class. Fulled lined.
Finished measurements: approx. 9" x 6" x 3"
Hand sewing techniques covered in class: backstitch, running stitch, basic quilting techniques, hand zipper insertion
Class Includes: afternoon snack & self-serve coffee & tea
Supply List
Fabrics & Misc
1/4 yard Lining fabric
1/4 yard Exterior Fabric A
1/4 yard Exterior Fabric B
1/4 yard cotton batting
(1) 8" zipper (metal or plastic)
(1) 4" thin leather strip for pull tab (optional or try one of Ruby Stars' zipper pulls!)
*Recommended fabrics: medium weight linen, linen/cotton blend, or quilting cotton for the exterior. Lightweight canvas for the lining.
Cancellation Policy
Cancellation Policy for Classes and Events
Cancellation fees reflect the cost of registration, staff, instructor contracts, material acquisitions, and other services. This policy applies to all registrants, regardless of the reason for canceling. We encourage you to take our cancellation policies into consideration before registering for classes.
If you need to cancel your registration, you have the following options:
Transfer:
Registrants who cancel their enrollment in a workshop held in our Ohio studio may make a one-time transfer to any other workshop held in our studio.
Transfers may be made either in the current workshop season, or any workshop in the following year. Transfers must be made more than 30 days prior to the workshop.
Refund:
If you prefer not to transfer your workshop registration, the following fees apply:
More than 60 days prior to the workshop, refund of your deposit minus a 20% cancellation fee.
Less than 60 days prior to the workshop, no refunds will be issued.
Redirect:
Registrants are able to send someone in their place into the workshop for no additional fee. In this case, no refunds will be issued, payment arrangements are the responsibility of the original registrant if needed
Other Helpful Information
Class is held in our Ohio Studio Friday, September 22nd from 10am - 4pm.
Supplies are available for purchase in-store during class if not purchased ahead of time.
For suggestions for hotel accommodations and other questions, email Julia at julia@suespargo.com
Sold Out? Join the Waitlist!