​
Tickets for this Event are Sold Out
Indigo Vases

with Sue Spargo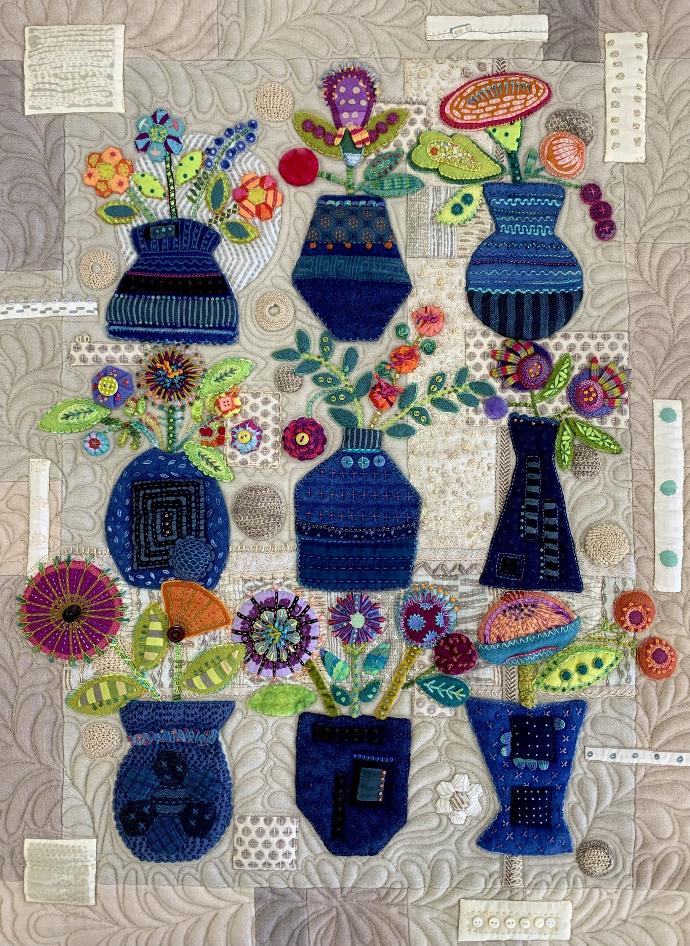 Join our 5 day Studio Class!
This small wall quilt features a soft neutral, hand-dyed wool background with 9 small indigo vases filled with beautiful flowers! For homework, you will prepare a layered and textured background, then in class, embellish your vases and arrange your "stitched bouquet" with all new techniques! Leave this 5 day class with a new beginning to an incredible quilt!
*This is a highly sought after class! Don't delay in registering!
Class Includes:
5 days of instruction from Sue
Breakfast, lunch and afternoon snack including coffee & tea.
What You'll Learn in Class:
Textural stems and leaves
Yo-yo's
English Paper Piecing
Ruched Stems
Dorset buttons and Domes
Ribbon flowers
Hexi flowers
Techniques for beading
and More!
Homework is REQUIRED!
You can purchase your Indigo Vases Kit HERE! or request your paper pattern by emailing Julia at julia@suespargo.com
Supply List
Fabrics for Homework ((if not using kit) email julia@suespargo.com for your pattern))
Fat 1/4 (cream or grey tone) hand-dyed wool for background (16" x 25")
Neutral color matching ribbons
Small pieces of neutral fabrics - cotton prints, silk, linens, yarn dyed fabrics - for layering the background
Nine 4" x 5" pieces of hand-dyed wool in shades of indigo or color of your choosing for the vases
Fabrics for Class
Different colors of hand-dyed wool and cotton scraps for leaves and flowers
Assorted small pieces of textural fabrics including hand-dyed velvet, silks and linens
1/4 yard of Presto Sheer for stabilizing velvet
Assorted skinny ribbons for stems
Threads and Bits
Cancellation Policy
Cancellation Policy for Classes and Events
Cancellation fees reflect the cost of registration, staff, instructor contracts, material acquisitions, and other services. This policy applies to all registrants, regardless of the reason for canceling. We encourage you to take our cancellation policies into consideration before registering for classes.
If you need to cancel your registration, you have the following options:
Transfer:
Registrants who cancel their enrollment in a workshop held in our Ohio studio may make a one-time transfer to any other workshop held in our studio.
Transfers may be made either in the current workshop season, or any workshop in the following year. Transfers must be made more than 30 days prior to the workshop.
Refund:
If you prefer not to transfer your workshop registration, the following fees apply:
More than 60 days prior to the workshop, refund of your deposit minus a 20% cancellation fee.
Less than 60 days prior to the workshop, no refunds will be issued.
Redirect:
Registrants are able to send someone in their place into the workshop for no additional fee. In this case, no refunds will be issued, payment arrangements are the responsibility of the original registrant if needed
Other Helpful Information
Class is held in our Ohio Studio Monday, Tuesday, Wednesday, Thursday, and Friday, October 9th thru October 13th from 9am - 4pm.
Supplies are available for purchase in-store during class if not purchased ahead of time. We ask that you purchase supplies ahead of time, as to not take away from class time.
For suggestions for hotel accommodations and other questions, email Julia at julia@suespargo.com
Sold Out? Join the Waitlist!