​
Hand Piecing with Jen Kingwell - 1 Day
Tickets for this Event are Sold Out
Hand Piecing

With Jen Kingwell
Join Jen Kingwell's 1 Day Studio Class at Sue Spargo!
During this workshop, Jen will cover the gentle art of hand piecing. Meet the Australian textile artist and learn the tips and tricks to hand piecing from a true expert!

instructor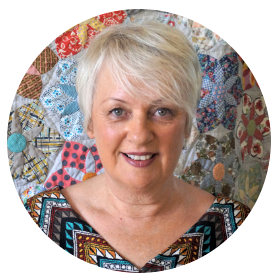 Jen Kingwell
Jen Kingwell Designs
Midwife by trade who turned her stitching addiction into a career. Jen is a scrap quilter and the more fabrics she can include in any one project, the happier she is.
She describes herself as "traditional with a contemporary twist" and in her perfect world would hand stitch everything. She loves sharing the serenity of this age old tradition. Author, fabric designer and quilt designer, Jen now travels the world teaching and lecturing and loves returning to her family and store - Amitie Textiles in Torquay, Australia.
Class Includes:
1 day of instruction from Jen Kingwell
Drunkards Path Pattern
Breakfast, Lunch, and Afternoon Snack with refreshments
In Class You Will Learn:
Hand Piecing
Drafting patterns
Cutting templates
Working with pre-cut acrylic templates
Supply List
Your chosen Jen Kingwell pattern or project (and requirements for chosen pattern)
A variety of small cut fabrics. Remember to include some florals, geometrics, spots, stripes, etc. Scraps, fat 1/16ths and fat 1/8ths work well (and remember more is always better)
Template Plastic - a thicker one works best (or pattern specific acrylic template set)
Scissors for cutting plastic
Fabric scissors
50wt cotton thread to blend with fabrics for piecing in neutral color eg. Grey
Optional Notions:
Cancellation Policy
Cancellation Policy for Classes and Events
Cancellation fees reflect the cost of registration, staff, instructor contracts, material acquisitions, and other services. This policy applies to all registrants, regardless of the reason for canceling. We encourage you to take our cancellation policies into consideration before registering for classes.
If you need to cancel your registration, you have the following options:
Transfer:
Registrants who cancel their enrollment in a workshop held in our Ohio studio may make a one-time transfer to any other workshop held in our studio.
Transfers may be made either in the current workshop season, or any workshop in the following year. Transfers must be made more than 30 days prior to the workshop.
Refund:
If you prefer not to transfer your workshop registration, the following fees apply:
More than 60 days prior to the workshop, refund of your deposit minus a 20% cancellation fee.
Less than 60 days prior to the workshop, no refunds will be issued.
Redirect:
Registrants are able to send someone in their place into the workshop for no additional fee. In this case, no refunds will be issued, payment arrangements are the responsibility of the original registrant if needed
Other Helpful Information
Class is held in our Ohio Studio Sunday, July 23rd from 9am - 4pm.
Supplies are available for purchase in-store during class if not purchased ahead of time. We highly recommend purchasing ahead of time, as to not take away from class time.

For suggestions for hotel accommodations and other questions, email Julia at julia@suespargo.com
Sold Out? Join the Waitlist!