 Critter & Clover - BOM LITE
Size: 23.5" x 23.5"

Follow Sue on a scenic stroll through the meadowlands and discover what little wonders abound! Join these nine little critters and discover their occasional mystery friends that may pop up in the background along the way!  Finish off with a mystery border. Have you been looking for a manageable project?  Or, perhaps, you have wanted to learn how to do wool appliqué and embroidery but cannot decide on where to start?  Join Sue for a year of slow stitching and learn her unique style of wool appliqué and creative embroidery stitching to create a lovely wall hanging sized quilt.  
For more information on Critter & Clover, click HERE.
As a Critter & Clover BOM participant you will receive:
Access to a private Facebook group where you can post questions, share your progress, meet like minded stitchers and interact with other participants
Local stitchers can gather monthly in our classroom to get assistance with current blocks
Expertly crafted, easy to follow, pattern format & workflow - so you can get to the fun part faster - stitching!
Monthly, manageable, cut to size kits - allowing you to have a completed wall hanging at the year's end!

International customers are welcome to participate in consolidated shipments. (January, March, June, September, December)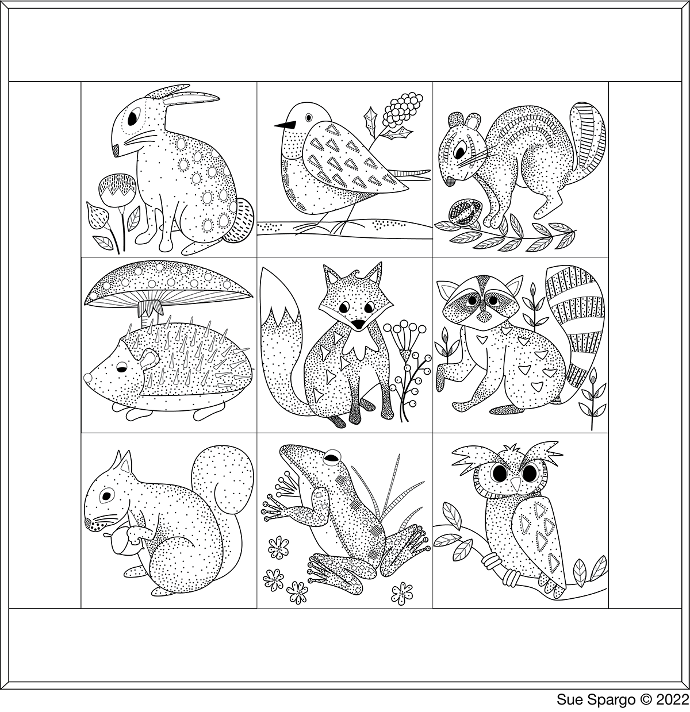 Flora - BOM CLASSIC
Size: 31-1/2" x 40-1/2" plus borders

For this year's Classic BOM program Sue has drawn inspiration from both her garden and from the intriguing botanical prints created by the botanists of yesteryear.  The sheer excitement of discovery is evident from these illustrations and jumps from the pages.  Sue's homage to these beautiful prints will feature tastefully layered appliqué and delicate yet robustly embroidered herbs.  Flora is comprised of nine common herbs, prized for either their medicinal qualities or culinary appeal. Finish everything off with a mystery border.
For more information on Flora, click HERE.
As a Flora BOM participant you will receive:
Access to a private Facebook group where you can post questions, share your progress, meet like minded stitchers and interact with other participants
Exclusive product offerings throughout the year
Local stitchers can gather monthly in our classroom to get assistance with current blocks
Expertly crafted, easy to follow, pattern format & workflow - so you can get to the fun part faster - stitching!
Monthly, manageable, cut to size kits - allowing you to create a masterpiece at the year's end!
International customers are welcome to participate in consolidated shipments. (January, March, June, September, December)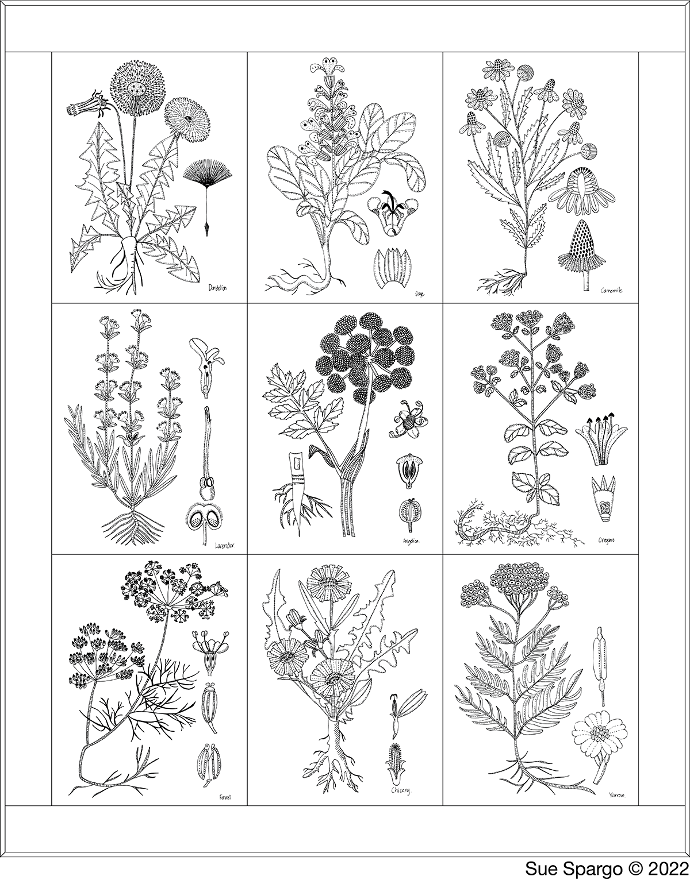 Important Information Regarding Registrations
・ Please DO NOT checkout as a guest! You must log in to your account, or register & create an account if you don't already have one! All current BOM members have an existing account.
・Checkout using the credit card you intend being charged with each month
・Once you enter your payment information, you must click the checkbox that says "Save Payment Details"
・Registrations that do not follow these steps will be voided without notice
★ For help, follow the step by step instructions located HERE ★